Has your Process Procedures Project Stuck?
---

by Aditi Bansal
Updated on Thursday, September 21, 2023
Process procedure journey can be used to one's advantage in cases where the processes are not bringing the desired expectations, and you have decided to apply standard operating procedures to improve process obedience, reliability, and efficiency to no avail.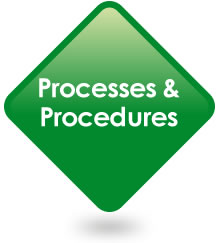 tags #Process Procedures #Process Mapping #
Utilize your procedures and processes journey to focus on:
Building repeatable corporate processes
Familiarizing your core business processes modification
Handling your business processes more competently
Obeying process principles and rules
Every step of your process procedure project results in a vital breakthrough being reached. Therefore, your whole process procedure project will move along better and faster with better outcomes.
Process Procedures Project Management
Starting your process procedures project with a project agreement that focuses your team on vibrant project aims and purposes will get the buy-in of your workers. Every six steps of the process procedure journey should be given enough time in your process and procedure project plan.
Process Mapping and Process Design
In your process procedure map, you should include the arrangement of process steps with inputs, documents, and records that are defined. Make an exceptional memo of the process flow metrics, accountabilities, and goals. A process map is the only document needed in several business processes.
Keys to getting your process procedures project done:
Save research time
Your company can save time researching materials that are based on applicable industrial principles, US regulations and best practices that are all investigated by technical writers, process specialists, and qualified persons.
Shorten the process of integration
An extensive array of policies and procedures manuals from the whole company all from one source saves time integrating the procedures you need.
Increases procedure writing sureness
Training, how to books, instructional content, live support and consulting assists in guaranteeing companies have the information they require to develop policies and get the procedures project accurate the first time.
Simplify document editing tasks
MS-Word features offer faster editing, simpler documents updates and easier changes like the table of content compared to PDF, RTF, and paper formats.
Haste policy development
Standard usability formats and process design method reduces employee misperception hence improving usability and speeding up policy development by personnel's that are less experienced. Your procedure projects will be done faster.
Acquire fast answers to procedure questions
To get a quick researchable answer to your process question, utilize the table of content, keyword index feature or the given printed manual.
This page has a focus on Process Procedures, Process Mapping was shared by Aditi Bansal.