Should You Consider Real Estate Investing in Orlando?
Exciting developments in the Orlando real estate market are getting nationwide attention. Learn why this city ranks high nationally among hot real estate markets.
last updated Thursday, September 21, 2023
#Real estate investing #real estate investing in orlando
---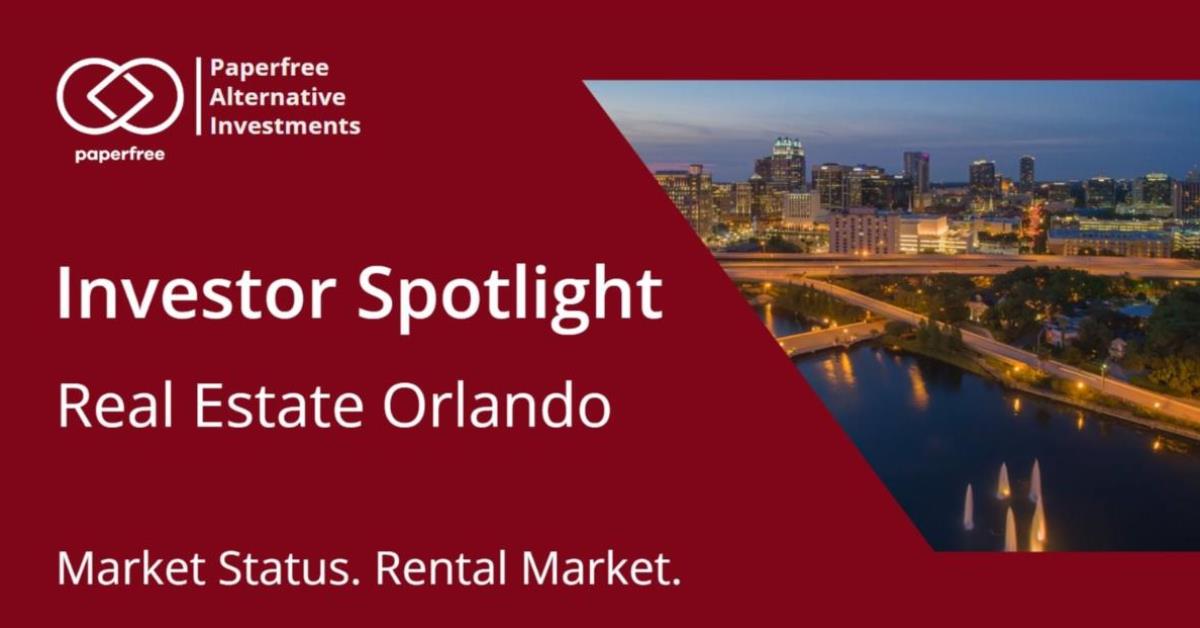 CONTENTS
Many people are loading up moving vans and leaving the heavily taxed and high-cost-of-living states for the sunny state of Florida. This massive post-COVID migration has made a significant positive impact on investment properties in Orlando, FL. In 2022, it helped raise the city's annual listing prices by 20% from a year prior.
Along with the influx of California and New York transplants, the impressive growth of real estate investing in Orlando stems from several significant factors contributing to a hot Orlando real estate investment market. Over this short read, we will detail all the aspects of real estate investing in Orlando.
The Real Estate Market Status and Outlook
Orlando's multifamily market is the most upwardly mobile segment of this city's real estate investment options. For example, multifamily occupancy has grown by 2% over the past year, while 16,000 new units entered the market last year. As a result, Orlando's multifamily market ranks 12th in the nation in multifamily development.
Orlando's housing inventory is tight. But new construction of Orlando real estate investment property is gradually increasing supply. In 2022, new construction permits increased by 25%. Other vital facts about real estate investment properties in Orlando, FL, include the following:
The median selling home price in Orlando is around $343,000.
In 2022, Orlando home prices rose 30.1% from the previous year.
Orlando's sales-to-list price ratio shows its homes sell just above the asking price at 100.59.
Home prices range from $167,000 in South Semoran to around $700,000 in Lake Nona Central.
Five of the best areas for Orlando real estate investing are Kissimmee, Oviedo, Winter Park, Lake Nona, Orlando, and Winter Park.
Orlando's Rental Market
Investor publications like Fortunebuilders.com consistently rank Orlando in the top ten places to invest in rental property. And the vital statistics indicate it will be on that list for years. In addition, if you become a real estate investor in Orlando, you can benefit from the continual influx of new residents escaping the higher cost of living and taxes in other urban areas.
The median rent for an Orlando three-bedroom home is $2,300 per month. And the rents range from $1,200 to around $3,800 per month. Over the last year, rents have risen by 16% in metropolitan Orlando.
But even more promising, Orlando renters occupy 55% of the city's housing units. Lake Nona, College Park, Winter Park, Baldwin Park, and Curry Ford West are the five best Orlando areas for investment rental properties.
What's Behind the Rise in Real Estate Investing in Orlando?
Orlando is a Central Florida city and home to the "Happiest Place on Earth." But the city has even more compelling factors igniting the hot Orlando real estate investment boom. The following are the main drivers in appreciating investment properties in Orlando, FL.
The Substantial Increase in the Population in Orlando
According to an Orlando.org report, Orlando welcomes over 1,000 new residents weekly. And this report doesn't even include the over 70 million tourists annually or snowbirds who temporarily reside in the city.
The Orlando metro area's population of about three million grew by 1.4% in 2022 alone. Experts estimate the population will grow to 5.2 million by 2023. Orlando has an in-migration real estate market, meaning more people are moving in than out. Some of the main reasons people relocate to Orlando are
No state income tax
Affordable living
Reasonable home prices compared to other major cities
Abundant job and business opportunities
Job Prospects
Orlando ranked 23rd on Forbes's list of best places for business and careers. It also ranked 6th in job growth. And over the past three years, the city's economy got a boost with almost 129,000 new jobs, an 11% increase. In addition, experts project that 500,000 new jobs will materialize in the Orlando metro area, representing a 19% increase.
ZipRecruiter.com reports that the average annual salary in Orlando is $53,858. This total is close to the national average of $54,132 a year. Although COVID-19 seriously affected business as usual, big companies in Orlando are rapidly recovering. Manufacturing, transportation, financial firms, and business services are leading. Some large companies headquartered in Orlando are General Dynamics, Mitsubishi Power Systems, AT&T, Boeing, and Siemens.
The Economic Power of Tourism
For a real estate investor in Orlando, the tourist trade is a lucrative asset for nourishing a thriving economy. Almost 75 million tourists contribute more than $75.2 billion annually to Central Florida's economy.
The world-famous theme parks and entertainment centers listed are Disney's Magic Kingdom, Hollywood Studio, SeaWorld Orlando, Universal Studios, and Epcot Center. In addition, the entertainment centers and theme parks employ nearly 41% of the Orlando area workforce, with 463,000 jobs.
Cautionary Issues Concerning Real Estate Investing in Orlando
The possible problems of being a real estate investor in Orlando differ from those of investing in other Florida metros. For example, even though the major entertainment venues are moneymakers for the city, they also present potential problems typical of a massive concentration of temporary residents. In addition, they are responsible for traffic congestion, long lines at restaurants and businesses, rodents, large crowds, and noise in certain areas.
Central Florida has year-round humidity that can be overbearing. The average daily humidity is over 74% year-round. You must factor in the hurricane risk. Since 1930, Orlando has hit 77 hurricanes.
Is an Orlando Real Estate Investment Right for You?
Now that you have a thorough briefing on real estate investing in Orlando, FL, you have a better basis for deciding whether investment properties in Orlando, FL, can meet your needs. If you choose to proceed, you should get the assistance of someone with local knowledge of real estate investing in Orlando.
Q&A
Q: What's a good reason to invest in Orlando real estate over other Florida cities?
Orlando offers relatively affordable real estate prices compared to Miami, Tampa, and other Florida metros. This destination is desirable if you want the best value for your money.
Q: How Can I Summarize the Advantages of Real Estate Investing in Orlando to a potential lender or Co-investor?
You can tell potential investment stakeholders that Orlando offers an attractive combination of solid market fundamentals, an expanding population, and a robust, diversified economy. As a result, the city is an excellent vehicle for short-term rental and long-term investment properties.
Subscribe to Paperfree Magazine
Paperfree Concierge

Talk to the investor concierge about the best-fit investment opportunities.