SAP ERP vs Oracle ERP
Finding an appropriate option among enterprise resource planning software options is generally a vitally important step in launching any business plan to bring a product to market.
last update Friday, January 17, 2020

---

tags
#Oracle vs sap comparison #sap vs oracle erp #sap versus oracle #SAP VS ORACLE
---
Finding an appropriate option among enterprise resource planning software options is generally a vitally important step in launching any business plan to bring a product to market. Enterprise resource planning software usually consists of a whole suite of different applications that work together to optimize a business plan. To date, the two most prominent ERP software suites are SAP and Oracle.
Resources and activities
When a company brings a product to market, there are a few business resources that must be carefully tracked to efficiently bring that product to market using an optimized system. These resources include capital, materials of production, and the means of production that determine production capacity.
In addition to tracking these various resources, companies must also optimize various activities to maximize their bottom line in the production of a product. Among these activities are product planning and evaluation of the cost of producing the product in question. Of course, a product is useless if it is not adequately marketed so that the company can find consumers interested in buying the product, so marketing and sales concerns are also addressed in enterprise resource planning software.
Companies also need to examine how the product in question will be manufactured and delivered to the consumer. They need to manage inventory after the product is manufactured and before it is sold. These are additional business activities that enterprise resource planning software must address.
Researching the options
Because ERP software is such a necessary component of efficient business processes, its design and production is a cut-throat industry. Companies looking to increase their bottom lines when bringing products to market are highly discerning when determining which ERP software solution is right for them. They, therefore, should put a great deal of research into deciding between two major options- each of which has its own respective merits- like SAP and Oracle.
In order to properly evaluate SAP and Oracle, companies need to understand what the determining factors are in evaluating the value of this type of software package.
A few important factors to consider are:
Configuration concerns- Before an ERP system can be implemented at a company, it inevitably needs to be configured according to that company's needs and desires. Ease of configuration revolves around how easy it is to adjust the software from how it is designed to work on how exactly the company wants to use it. Ease of configuration typically involves how many different system modification operations there are. While configuration options are important, an excessively long configuration process could detract from the value of the software package in question by making implementation excessively complicated.
Customization concerns- ERP software programs need to be usable in many different industries. Customization options can make it possible for them to be used with equal efficiency in diverse industries. Ideally, an ERP software system will be able to grasp the industry best practices of any industry thanks to customization options that improve user acceptance, allow companies to get a competitive advantage over competing companies, and incorporate policies and regulations that are unique to individual companies and/or industries.
Data migration- At the time when an ERP software solution is implemented, a company will typically need to migrate massive amounts of data regarding business resources- capital, materials, and means of production- into the software. The ease of data migration is a primary factor in evaluating the implementation process of a given software option. Data migration involves not only moving data but also copying that data and restructuring it so that it can be used in the ERP system.
ERP Software: Market Share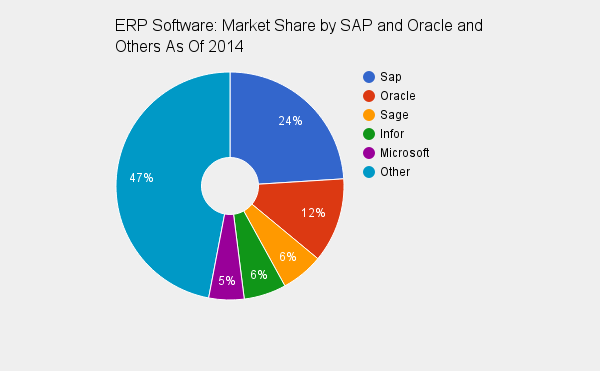 fig #1 ERP Software: Market Share
This chart shows the market share of ERP software by the company. We see that even back in 2014 SAP and Oracle were the top two most popular producers of ERP software, with SAP holding 24% of the market and Oracle holding 12% of the market share.
SAP ERP
According to market share and frequency of short-listing, SAP is the more successful ERP software package. SAP enjoyed 24 percent of the market share back in 2010.
The ERP software offered by SAP is made up of numerous modules. There are modules focusing on different business functions including sales/marketing, product design, inventory needs, human resources functions, and accounting. Some companies opt to use the entire SAP Business Suite, of which SAP ERP makes up one part. Other software in the SAP Business Suite includes SAP Customer Relationship Management, SAP Supplier Relationship Management, SAP Supply Chain Management, and SAP Product Lifecycle Management.
Advantages vs. disadvantages of SAP
According to some users and industry authorities, SAP has a lower implementation risk than Oracle. SAP has a special feature known as the All-in-One product feature that helps minimize implementation risk through reconfigurations for various verticals. This feature not only reduces implementation risk but also helps to speed up the implementation process.
Another area where SAP is often touted as advantageous over Oracle is customization. Companies looking to customize their ERP software solution so that it fits in more closely with their processes for marketing, managing customer relations, and carrying out other business processes can take advantage of the customization tools features in SAP ERP software.
The two main drawbacks of using SAP ERP are cost and delay with capitalizing on the cloud. As the industry frontrunner, SAP is typically more expensive for customers to purchase. As the frontrunner SAP has also been slower to grasp the revolutionary changes offered by cloud technology than Oracle has been. Although SAP does offer cloud capabilities with its SAP Business One software, Oracle has been heralded as being more successful in maximizing cloud advantages for clients.
Oracle ERP
Although SAP does enjoy a greater market share and more frequent short-listing than SAP, Oracle is often selected by companies over SAP when the two types of ERP software are short-listed together. The ERP software offered by Oracle is part of the software E-Business Suite, which also includes customer relationship management and supply-chain management software.
Oracle ERP offers additional software applications include Fusion, Peoplesoft, and JD Edwards. The last two- Peoplesoft and JD Edwards- were separate software companies that were bought out by Oracle.
Advantages vs. disadvantages of Oracle
Some claim implementation advantageous with Oracle, citing statistics that companies pay only 1.7 percent of their annual revenues for implementation costs. Another way Oracle can potentially be more affordable than SAP is through the use of cloud technology. Oracle is eager to help customers cross over the cloud format, which many business owners consider to be the way of the future. Cloud technology allows the software to be accessed with lower costs and fewer IT/maintenance needs.
Oracle also has a clear advantage over SAP when it comes to keeping up with legal and technological standards that are important in certain industries.
The disadvantages of Oracle typically lie in the fact that the software suite is somewhat secondary in importance and influence than SAP. Because its usage is more widespread, many companies and staff members will more easily adjust to the implementation of SAP because they may already have experience with the software.
SAP offers a clear advantage over Oracle when it comes to in-memory technology. SAP got a head start on establishing an effective in-memory database with SAP HANA, but Oracle has been trying to catch up in recent years by creating a differentiated system capable of integrating with compatible databases/applications.
Conclusion
If you're looking for easy implementation, customization options, and a single platform system that capitalizes on in-memory technology, SAP is probably the best choice. If you're looking to embrace the Cloud, maximize security, or accommodate industry-specific legal/technology standards, go with Oracle.
The End, what is next?
Note: the page content was squeezed for you with a focus on Oracle vs sap comparison , sap vs oracle erp by Paperfree Magazine Team, editor - Aditi Bansal
Go ahead and share it!
check this out, Read more about Oracle vs sap comparison in Magazine
Tweet
Want more content related to "Oracle vs sap comparison" ? Subscribe PaperFree Magazine!
We will send an email from PaperFree Magazine with the top content on this subject: Oracle vs sap comparison , sap vs oracle erp.