Real estate investment strategies to build a smart portfolio
Real estate investment strategies can help beginners and seasoned investors reap the rewards and build wealth through the power of real estate investing. Real estate investing strategies cover various aspects such as financial analysis, evaluating potential investments, managing risks, understanding market conditions, and creating exit strategies to maximize returns.
Investing in real estate requires the exploration of numerous opportunities so that the perfect Strategy is chosen for achieving the desired financial goals. Achieving success with real estate investing requires established tactics, discipline, and commitment - but with the right approach, achieving long-term wealth through smart investment decisions is possible.
Strategies across property types.
Invest across the capital stack.
Real estate investment strategies by risk profile.
The whole picture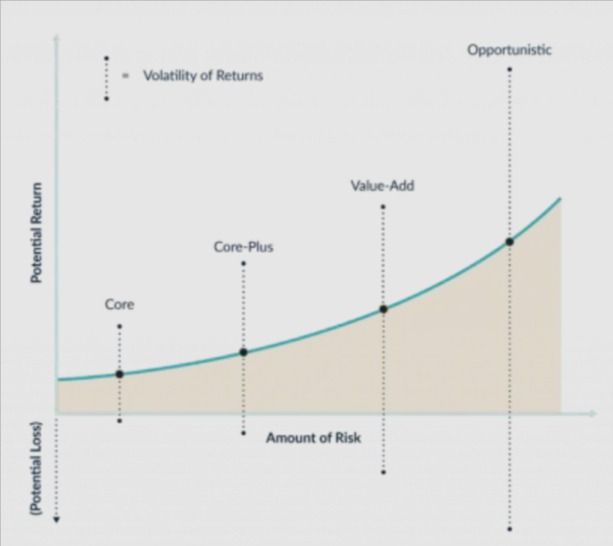 Picture: crowdstreet.com
All Real Estate Investment Strategies
FAQ
What is the best real estate investment strategy?
No one strategy fits all. It is very individual.
Each investment strategy has unique attributes:
potential return,
terms,
risks,
taxes,
other intangible benefits and losses (reputation, time, etc.)
The most critical attribute for most investors is the risk. Understanding all the risks of a specific investment strategy you are vetting is crucial. After strategy risk assessment, the next step is to align it with the risk margin of your capital. And make a decision to pass on the opportunity or move to deeper due diligence.
Example, approach:
The Fix Income Strategy is the most conservative strategy with the lowest risk. Fix fixed-income strategy may be a good fit for a developed investment portfolio when an investor looking for stability.
The Opportunistic Strategy has the highest risk. The opportunistic strategy is a good fit for the fresh portfolio; the portfolio that has time to recover from potential losses associated with high-risk investment.
There are strategies in between, Core, Core Plus, and Value Add strategies have a medium risk of potential capital loss.
The investment industry veterans are suggesting designing and running your personalized investment strategy empowered by diverse strategies, it would be a mix of different real estate strategies; the more is better.
Example, portfolio design:
20% of the total portfolio is allocated to alternative Investments, where 20% is split
30% of 20% to Core real estate investment,

30%

of 20%

to Value Add

real estate investment

,
10%

of 20%

to Opportunistic

real estate investment,

30%

of 20%

to other Alternatives.
The Real Estate Investment portfolio is split between a few strategies real estate investment strategies:
40% Core strategy, 30% Value add, 30% Fixed income, and 10% Opportunistic strategy.
learn more