

BTRF2, Build to rent fund to drive capital growth.

Fund is investing in build to rent investment projects located in Florida Market to drive capital growth for passive investors.



Talk to investor concierge
Fund Description
BTRF, Build to Rent Fund is an investment fund designed primarily for capital growth strategy. Fund invests directly in development projects in different stages and different Florida markets.
Investment markets:

Florida
Investment categories:
#Invest In Build to Rent
#Invest In Multifamily
#build to rent investment funds
#build to rent Florida
Investment structure:
#Real Estate Fund
Asset class:
#Real Estate Private Equity
Real Estate Sectors: #build to rent homes Florida #build-to rent communities Florida
#Multi-family buildings
Hold Period: 5 Years
Investment Objective: #Capital Growth
Minimum Investment:
$25K
Fund Status: Pre-sale
Investor type: #Accredited Investors
Features
Gateway Opportunity: Paperfree's Build to Rent fund allows you to invest in build-to-rent investments usually reserved for property developers, prominent landlords, institutional investors, and financial institutions.
100% Control of Assets. Paperfree owns 100% of our build to rent assets. As such, we hold the first note on the property of any loans we grant. We are also actively involved in managing the BTR properties.
Strong Long-Term Projections: This build-to-rent fund taps into a multi-million-dollar investment strategy supported by a growing rental market that's fueled by the 72.1 million millennials entering the national market and followed by Generation Z primary rental users.
Investment Approach
The build-to-rent investment allows you to avoid the high entry cost of build-to-rent (BTR) developments by investing in these residential properties at scale.
BTRF fund invests in multiple development projects. As a result, your yield can be substantial from economies of scale.
Build-to-rent investment funds are excellent long-term investments for capital growth. And Paperfree's build-to-rent fund has the fundamentals to fulfill its maximum growth potential.
Our build-to-rent investment mission is to offer in-demand homes much faster than private rent-sector competitors.
Build to Rent Investment strategy.
Our BTRF fund Investors and developers work with public entities to access premium land for development. Our build-to-rent fund finances site purchase, development, infrastructure, construction, set-up, and maintenance costs.
The fund's tenant strategy targets a specific demographic for each development.
The end-user example: Millennials seeking rental new homes consistent with their lifestyles.
With a particular demographic in mind, our developers design and construct a residential development with a design catering to the typical lifestyle of the people within that market segment.
Before tenants sign a lease, they know the payment schedule and rate of rent increases.
The development management generally offers renters long-term leases and partially or fully furnished units. Although the BTRF rent rates are about 10 to 20% more than private rental property, they offer amenities that best accommodate the tenant's lifestyle, such as a gym, roof terraces, cinema room, communal lounge, and professional on-site management. However, build to rent homes' main draw is tenants' chance to live in a new home in a community atmosphere.
Fund Key Facts
Target Return

6 - 12%

International Investor

Yes

Distribution

Quarterly

Market

Florida

Preferred Return

Cumulative Preferred Return 8%

Timing

Equity members are subject to a 24-month lockup.

Profit Split

50% investors
50% manager

IRA Funds Allowed
Yes

Security Instrument

Shares in the LLC

Reinvestment Option
Yes

Minimum Investment

$50,000 single fund or $25,000 double fund

Historical Returns
Our blended net return to investors on a similar strategy has exceeded 18%.

Accredited Investors Only

Yes*

Investment Open
No

Solo Investment

Yes
Legal disclaimerThis page contains only pre-market material.

Our offerings under Rule 506(c) are for accredited investors only.
FOR OUR CURRENT REGULATION A OFFERING, NO SALE MAY BE MADE TO YOU IN THIS OFFERING IF THE AGGREGATE PURCHASE PRICE YOU PAY IS MORE THAN 10% OF THE GREATER OF YOUR ANNUAL INCOME OR NET WORTH. DIFFERENT RULES APPLY TO ACCREDITED INVESTORS AND NON-NATURAL PERSONS. BEFORE MAKING ANY REPRESENTATION THAT YOUR INVESTMENT DOES NOT EXCEED APPLICABLE THRESHOLDS, WE ENCOURAGE YOU TO REVIEW RULE 251(D)(2)(I)(C) OF REGULATION A. FOR GENERAL INFORMATION ON INVESTING, WE ENCOURAGE YOU TO REFER TO WWW.INVESTOR.GOV.
For our anticipated Regulation A offering, until the Offering Statement is qualified by the SEC, no money or consideration is being solicited. If sent in response before qualification, such cash will not be accepted. No offer to buy the securities can be accepted, and no part of the purchase price can be received until the offering statement is qualified. Any offer may be withdrawn or revoked, without obligation or commitment, before notice of its acceptance is given after the qualification date. A person's indication of interest involves no responsibility or duty. Our Offering Circular, part of the Offering Statement, when filed, may be found at sec.gov or on our website at paperfree.com.
*Accredited Investors must meet ONE of these guidelines:
Net worth exceeding $1 Million, excluding primary residence
Individual annual income over $200,000
Joint yearly income over $300,000

Keywords #build to rent Investment #build to rent investment funds #build to rent fund USR9-117D345



----- social banner to share -----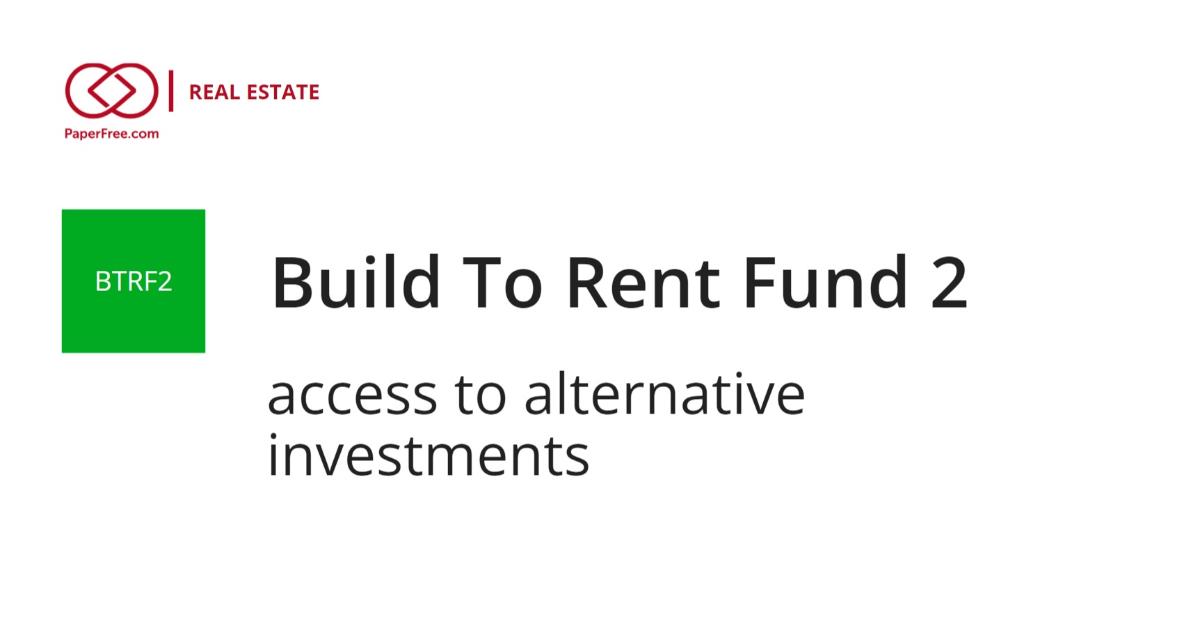 Ready to start investing?
Sign up for Paperfree and get stock on us.
Sign up for paperfree

Certain limitations apply