

SHF1. Investing in senior housing to drive capital growth

SHF1 is senior housing f und invests in senior housing properties across US markets.



Talk to investor concierge
Fund Description
SHF, Fund is directly investing in senior housing investment opportunities in projects in different stabilization stages and different USA markets. The fund was primarily designed to drive capital growth.
Investment markets: Florida USA
Investment categories: #Invest in senior housing real estate
Investment structure: #Real Estate Fund
Asset class: #Real Estate Private Equity
Real Estate Sectors: #communities Florida
Hold Period: 5 Years
Investment Objective: #Capital Growth
Minimum Investment: $25K
Fund Status: Pre-sale
Investor type: #Accredited Investors

Product Features
Recession Resilient
Senior housing investments have minimal reliance on real estate market trends or economic conditions.
Top Performer
Our fund allows you to invest in senior housing, the number-one performing commercial real estate of the past decade.
Portfolio Diversification
This senior real estate housing investments fund allows you to diversify your portfolio with a low-risk, high-return asset with a 31.3% share of all alternative investments with a $17.2 billion annual transaction volume from 2014 to 2019.
Investment Approach
An estimated 28 million Americans are over 75 years old, and 9.6 million are over the typical senior housing move-in age of 85. Since Americans are living longer and the second largest generation is approaching retirement, the senior housing market shows great potential as a lucrative long-term investment. As such, our fund provides you with one of the most promising risk-adjusted investment opportunities in commercial real estate.
The increasing senior population is creating a high demand for various senior housing investments, including nursing homes, age-restricted multifamily rentals, hospitals, memory care communities, and independent living facilities. Our senior housing investment fund allows you to benefit from this asset class's phenomenal growth with an institutional investor's economies of scale.
Investment strategy
The ballooning demand for senior housing and assisted living facilities will attract new entrants into this housing sector. However, the senior housing market differs from conventional real estate forms because it has unique operational and regulatory issues. These challenges mandate that a successful senior housing investment strategy requires an experienced and tireless team like ours to invest productively in senior housing.
Paperfree's team makes investing in senior housing a sound real estate investment with a promising future. With all potential senior housing investments, our team devotes as much time and effort as it takes to thoroughly research each senior housing property's surrounding demographics, financials, and reputation.
Exposure Breakdowns
Property type: Commercial senior housing – 100%
Markets: North America 100%
Asset Class: Equity 100%
The end-user: U.S. consumers 65 years +
Fund Key Facts
Target Return

6 - 12%

International Investor

Yes

Distribution

Quarterly

Market

lower-middle-income rental market.

Preferred Return

Cumulative Preferred Return 8%

Timing

Equity members are subject to a 24-month lockup.

Profit Split

50% to the investors
50% to the manager

IRA Funds Allowed
Yes

Security Instrument

Shares in the LLC

Reinvestment Option
Yes

Minimum Investment

$50,000 single fund or $25,000 double fund

Historical Returns
Our blended net return to investors on a similar strategy has exceeded 18%.

Accredited Investors Only

Yes*

Investment Open
No
Legal disclaimerThis page contains only pre-market material.

Our offerings under Rule 506(c) are for accredited investors only.
FOR OUR CURRENT REGULATION A OFFERING, NO SALE MAY BE MADE TO YOU IN THIS OFFERING IF THE AGGREGATE PURCHASE PRICE YOU PAY IS MORE THAN 10% OF THE GREATER OF YOUR ANNUAL INCOME OR NET WORTH. DIFFERENT RULES APPLY TO ACCREDITED INVESTORS AND NON-NATURAL PERSONS. BEFORE MAKING ANY REPRESENTATION THAT YOUR INVESTMENT DOES NOT EXCEED APPLICABLE THRESHOLDS, WE ENCOURAGE YOU TO REVIEW RULE 251(D)(2)(I)(C) OF REGULATION A. FOR GENERAL INFORMATION ON INVESTING, WE ENCOURAGE YOU TO REFER TO WWW.INVESTOR.GOV.
For our anticipated Regulation A offering, until the Offering Statement is qualified by the SEC, no money or consideration is being solicited. If sent in response before qualification, such cash will not be accepted. No offer to buy the securities can be accepted, and no part of the purchase price can be received until the offering statement is qualified. Any offer may be withdrawn or revoked, without obligation or commitment, before notice of its acceptance is given after the qualification date. A person's indication of interest involves no responsibility or duty. Our Offering Circular, part of the Offering Statement, when filed, may be found at sec.gov or on our website at paperfree.com.
*Accredited Investors must meet ONE of these guidelines:
Net worth exceeding $1 Million, excluding primary residence
Individual annual income over $200,000
Joint yearly income over $300,000

Keywords #investing in senior housing #Invest in senior housing #senior housing investments USR9-117D345



----- social banner to share -----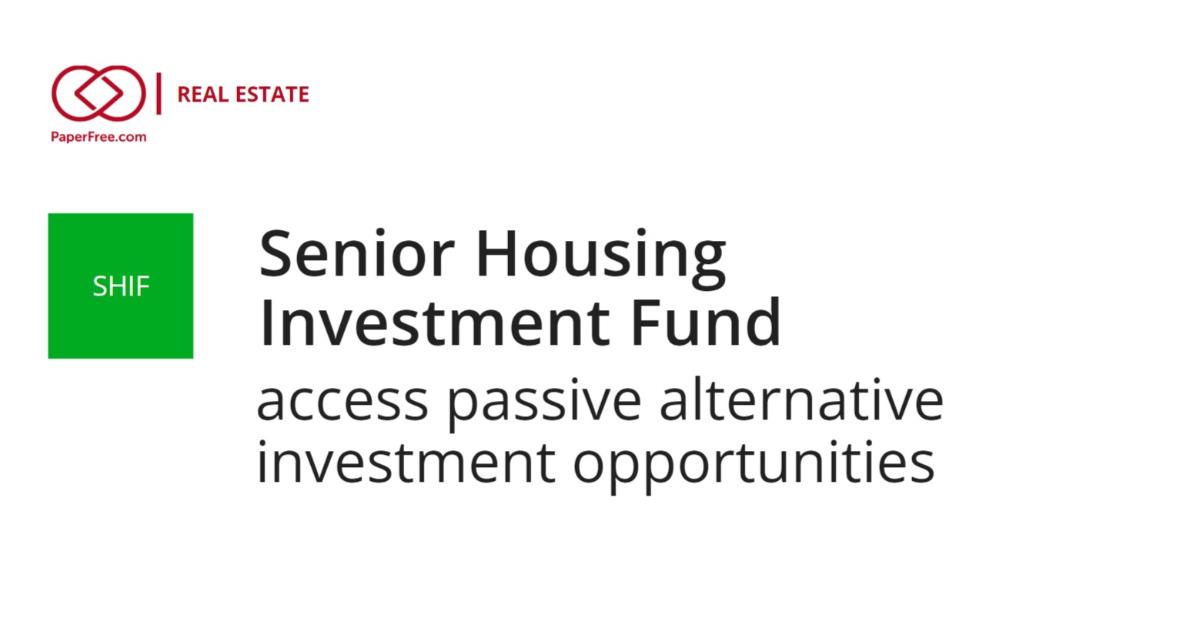 Ready to start investing?
Sign up for Paperfree and get stock on us.
Sign up for paperfree

Certain limitations apply