Why is Investing in Tampa Real Estate a Popular Trend Right Now
Tampa real estate investment prospects are alluring because it has become a popular spot for people and large businesses to relocate. Read more.
last updated Thursday, September 21, 2023
#Tampa real estate investor #Invest in Florida property
---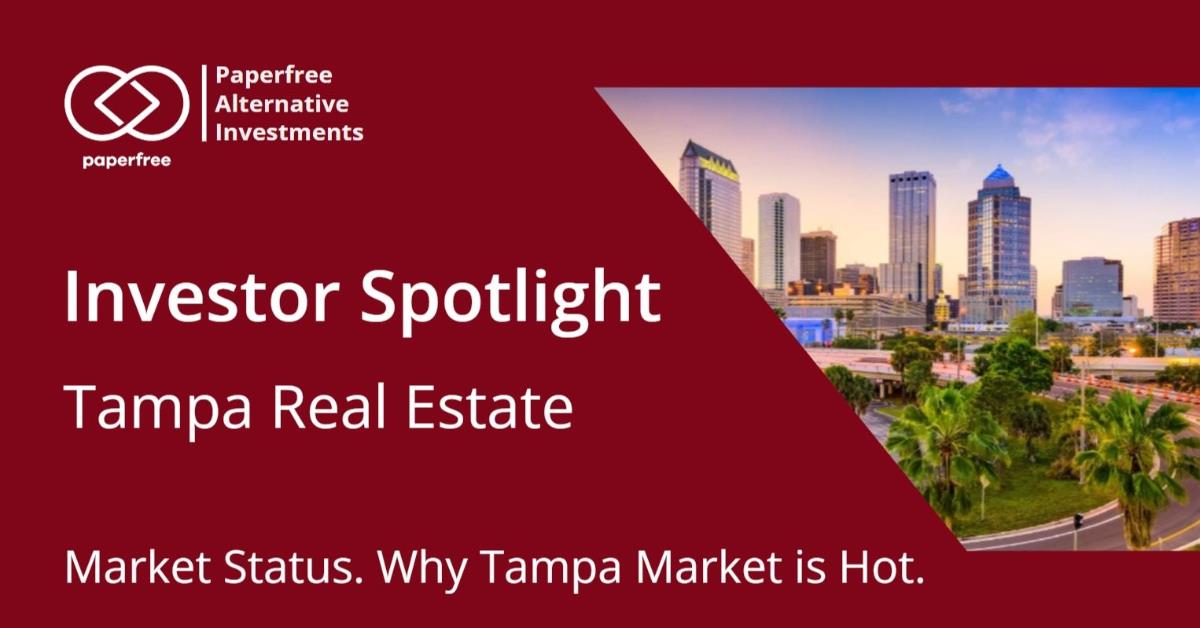 CONTENTS
If you plan to invest in Florida property, you may already know that investing in Tampa real estate is a hot trend. The Tampa Bay Times reports that this city is the seventh most desirable real estate location for investors nationwide. This intense interest in investment in Tampa real estate is due to several positive economic factors boosting the value of Tampa's home rental and sales markets.
You may be among many investors with more than a casual interest in becoming a Tampa real estate investor. However, you may need a deeper understanding of the market dynamics in the area.
We will unpack all the details about the city's real estate investment potential to help you with your due diligence in possibly investing in Tampa real estate.
The State of Investing in the Tampa Real Estate Market
The Tampa Bay housing market is undoubtedly one of today's top housing markets. And current forecasts predict this hot trend will continue for some time. According to their calculations, the analysts for Realtor.com expect home sales to climb by 9.6%, and they expect prices to ascend 6.8% year-over-year.
As of January 2023, the median home price for a house in Tampa has risen 8.4% from the previous year to $389,000, and the median days a Tampa home stays on the market is 40.
Another critical factor is the sale-to-list price ratio is 101.54%. This stat means that, on average, most homes will sell 1.54% above the asking price.
The median price for investing in Tampa ranges from $237,000 to $2.7 million. Some of the best communities for real estate investment are Hyde Park, Harbour Island, Palma Ceia West, and Courier City/Oscawana.
What about the Tampa Renters' Market?
Fierce competition and low inventory in the Tampa housing market have priced many potential buyers out of home ownership. As a result, the Tampa rental market is thriving. Institutional investors invest in large quantities of Orlando rental property. For example, nationwide home leasing company Invitation Homes owns over 8,000 single-family houses in Tampa.
The median rent for a three-bedroom home in Tampa was around $2,300 in 2022, a 16% increase from the previous year. As of March 2023, the median rent for all bedrooms is $2,296, a $135 year-over-year change.
A recent survey of Tampa households revealed that almost half would rather rent than own. Depending on the neighborhood, rent can range from $795 to $5,500. Downtown Tampa, Harbour Island, and Sun Bay South are the most popular Tampa neighborhoods for renters.
Why is Investment Real Estate in Tampa So Hot
Some driving economic forces favoring the Tampa real estate investor also affect those investing in other Florida metro areas. Let's look at them one by one.
A Thriving Economy
Excuse the cliche, but Tampa is a city on the move. Its GDP of $169 billion has grown 46% over the past ten years. The high-growth industries in Tampa are financial services, healthcare, manufacturing, logistics, and professional services.
Twenty companies headquartered in Tampa have combined annual earnings of $1 billion. In addition, the Port of Tampa Bay is Florida's largest seaport and a central service hub for cruise lines and cargo shippers.
Job Growth
Tampa has about a 2.3% unemployment rate. And its employment growth has increased by about 3.3% a year. Also, with the full recovery from COVID-19 economic conditions, the healthcare, tourism, and business services industries should cause further growth in the job market.

Among the active employers in Tampa are Publix Supermarkets, Verizon Communications, OSI Restaurant Partners LLC ( Operator of Outback Steakhouse and Flemings Steakhouse), and Times Publishing Co.
Population Growth Increases Interest to Invest in Tampa Real Estate
Over the ten years, the U.S. Census Bureau reports that Tampa's net population has grown by 230,000 new residents. They are primarily settling in the Tampa Bay area instead of Miami, Palm Beach, and Fort Lauderdale.
About 385,000 people live in the City of Tampa, and nearly 3.1 million residents call the Tampa Bay/Hillsborough County metro area home. Experts predict a 3.3% annual growth from this population for the next three or four years. In addition, Tampa MSA — consisting of Tampa, St. Petersburg, and Clearwater — is expected to gain 3.8 million more people by 2040.
Quality of Life
For the most part, job and business opportunities, no state income tax, perfect weather, and the scenic waterfront are the primary reasons many people are relocating to Tampa. However, there are other aspects of Tampa living that make investment real estate in Tampa so appealing, such as:
The Tampa Bay EDC's cost of the living index shows that the cost of living in Tampa is cheaper than living in Orlando, Atlanta, Phoenix, Nashville, and Denver
Tampa has an impressive group of sports teams, including the NFL Tampa Bay Buccaneers, the Tampa Bay Ray MLB team, and the Tampa Bay Lightning of the NHL.
This city has excellent entertainment venues like the Tampa Museum of Art, Sparkman Wharf, and the Florida Aquarium.
Many online travel reviewers like Niche.com give the Tampa area a 5-star rating in nightlife, outdoor activities, and scenic environment.
Serious Issues to Consider When Investing in Tampa Real Estate
If you proceed as a Tampa real estate investor, you should include several important factors in your due diligence. One of the most important factors is ensuring your investment real estate in Tampa is a quality neighborhood. Like many urban metropolises, Tampa has its share of rough areas you should avoid. This potential problem is why you should work with a knowledgeable realtor or investment partner.
Another significant risk when you invest in Florida property is a flood risk, especially in low-lying locations like Tampa. For this reason, your insurance cost would be more expensive in this city. You also must be aware of the natural threat of sinkholes, particularly in the Tampa region called "sinkhole alley." Fortunately, there are sinkhole maps that can help you identify Tampa communities prone to natural hazards.
Making Your Decision
As you can see, investment in Tampa Bay real estate is tempting because the area has all the dynamics to make this metro area prosperous for years. However, as you get closer to deciding to invest in Tampa real estate, increase your chances of success by joining realtors who successfully do business in the Tampa real estate market.
Q&A
Q: What aspect of the Tampa real estate market stands out?
Tampa has a robust rental market, with a high demand for short-term and long-term rentals. The Tampa rental market is worth investigating if you seek a passive income through rental properties.
Q: Is Tampa a safe place to live?
Compared to other U.S. cities of similar size, Tampa is a relatively safe place to live. But Tampa is a big city. So, some communities have higher crime rates than others. Some of the safest Tampa neighborhoods are Harbour Island, Westchase, Davis Islands, and Palma Ceia.
Subscribe to Paperfree Magazine
Paperfree Concierge

Talk to the investor concierge about the best-fit investment opportunities.