Google's co-founder Sergey Brin sold few shares
---

by
Updated on Thursday, April 20, 2017
worth $10,481,187
tags # # #
Source:

http://bit.ly/1Lo3OWl
Sergey Brin Insider Sell
A public report for the transaction of 16,666 shares of Google Inc by Sergey Brin was filled (source Washington-based SEC). The public form was filled on September 30, 2015. The insider shares were sold at average $628.9 per each share, and are worth based on the market $10,481,187 U.S Dollars, making this transaction a very significant one. This is not his first insider trade, in the last month, he sold another 33,340 shares worth $21,445,735 USD. Right now, Sergey Brin owns 21.24 million shares which are equivalent to about 10%+ of Google Inc's market cap.
Google Sentiment and Fundamentals
Whatever reason maybe, the fact remains that Mr. Sergey, unloaded shares and seems worried about the Company. Google Inc's fundamental position indicates an overall Year Over Year EPS growth of 17.97% if these expert analysts are correct.
Our equity analysts rate the stock as a "Neutral". The decision is based on our popular trend-following model, which is presented on the chart below. Chart analysis reveals Google Inc's share price gained 8.14% in the last 50 days. And this upward trend trajectory looks set to continue.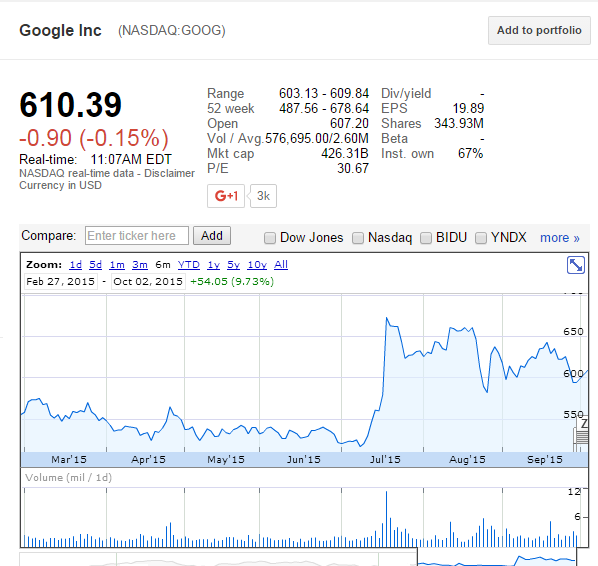 This page has a focus on , was shared by .