Marketing Statistics
To view the marketing details, follow the steps given bellow.
1. Navigate to the Statistics - > Marketing option in the Side Bar.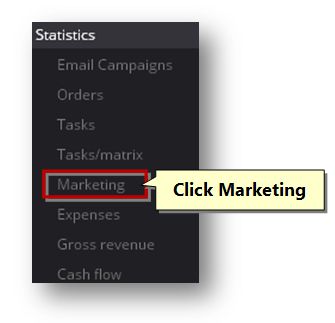 The Marketing details page will be displayed.

Marketing statistics in details
Lead source
The LEAD source is a first touch point where your business met a prospect. It may be website page or phone number or offline store.
Sponsored from PaperFree Magazine:
Real Estate Investment Principles by Billionaire Bruce Flatt
Copyright © 2022 PaperFree.com Inc. All rights reserved and data products are owned and distributed by PaperFree.com Inc. and its subsidiaries. | About | Feedback | All Contacts | ID: 979-446-8934 S/N 78675-0 | SID 487999-3 | Version 5.2 Powered by PaperFree.com | Legal